Testo Rampage

Review
Rated:
3.5

out of

5


by

BuildMuscle.com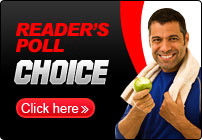 Muscle, in a physical world it's the defining feature of men. And, for men who want to be everything they can be, building muscle and attaining a body worthy of a god means doing everything they can to maximize the benefits they get from their overall physical regimen. From workout methods to recovery strategies to dietary choices everything a man does to reach his goals must be done with thought and determination.
Another aspect that often does not receive the same amount of attention as these other parts is the selection of the supplements they choose. And, unfortunately, those choices are being made more difficult with each passing year. This is due to the fact that there is a constant barrage of new products and updated versions of existing products that are coming into the market on a regular basis. To make matters even worse most of these products are made with very similar ingredients and often make quite similar claims.
This being the case, we, as part of our ongoing efforts to help our readers find the products that will work best for them, have decided to take a long hard look at one of the most talked about bodybuilding supplements available today - it's called Testo Rampage.
About Testo Rampage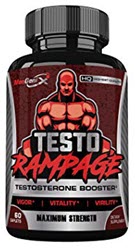 As a muscle building supplement Testo Rampage gives the body with the critical nutrients that are required to build lean muscle mass rapidly and in a health conscious manner. It also improves stamina and endurance during workouts and in other high level active pursuits. It also increases Testosterone and Nitric Oxide levels, improves energy levels, bolsters sexual drive or libido, helps to decrease unwanted body fat and promotes overall health.
A product of a US based company called Mengenix, Testo Rampage claims to be an all-natural herbal formulation safe to use with no discernible. The also claim that regular use by men will result in an increase help to help alleviate certain types of sexual dysfunction and bolster confidence.
Testo Rampage Active Ingredients
Filled with a number of well-respected ingredients, Testo Rampage claims to boost the production of testosterone and nitric oxide production. They include:
Tongkat Ali - Works to boost testosterone levels and increase blood circulation.
Horny Goat Weed - A secondary testosterone booster as well as a highly prized aphrodisiac.
L-Arginine - Converts to nitric oxide in the bloodstream to carry nutrients and oxygen to all the major muscle groups.
Tribulus Terrestris - Mainly used to improve stamina and endurance.
D-Aspartic Acid - Widely hailed as a prime fat burner.
The Clinical Evidence
As any experienced consumer knows there are multiple factors that determine how well a product works. They include not only the set of ingredients that are used in its manufacture but also the production process and the formulation used to turn raw ingredients into a specific supplement geared toward a specific result.
Looking at the available information regarding Testo Rampage there is ample evidence regarding the benefits of the individual ingredients chosen for this product. That said, there is little to no credible or verifiable evidence when it comes to research, studies or clinical trials that offer support to the manufacturer's claims.
What Users Are Saying About Testo Rampage
Most producers of health supplements use testimonials and user reviews to help promote their products. Still, as most savvy shoppers understand, any testimonial or user review that is found on a product's official website or other outlet such as online retail sites are controlled by the seller and, therefore, have a distinct bias. This is why we look for more independent sources of user reviews.
Compiling user reviews from a number of industry related website with no apparent affiliation to Testo Rampage and several chat rooms discussing these forms of supplements we discovered many such user reviews - most of which had a distinctly negative view of their experiences with this product. The most often cited comments revolved around the idea that Testo Rampage simply did not deliver on the claims that it made.
Concerns About Health Issues
As discussed earlier, the set of ingredients used in the production of Testo Rampage widely used in most of the highest performing supplements of the kind and, to our knowledge, there are no significant examples of serious health concerns of allergic reaction with proper use.
Still, it is always advisable to seek out a consultation with a primary care physician or other qualified medical professional before beginning use of this or any other product of a similar nature.
Purchasing Testo Rampage
This product can be found for sale on a number of online retail outlets for an average price of $29.97 for a one month supply.
The Final Verdict On Testo Rampage
Back at to start of this review we talked about how muscle was the trademark of a man. And, for men who want to become the man they want to be, developing a high level of lean muscle mass and enhancing the essential traits of manhood such as stamina, endurance and sexual drive are pursuits that just cannot be ignored.
To do this serious athletes and bodybuilders must pay attention to all the details necessary to achieving this goal. From developing a top flight training methodology to taking their recovery periods seriously to make wise dietary choices to finding and using the best possible supplements everything must be done with the greatest dedication and determination.
Taking all we've learned about Testo Rampage into consideration there are a handful of key factors that must be looked at to know if this product can deliver the necessary elements that men in pursuit of the ultimate body and a truly vital and virile lifestyle need. One of them is the list of ingredients chosen for Testo Rampage. As stated above, these ingredients are, on most levels, are widely used in many of the top performing supplements on the market today and have a good general reputation. A second factor is the formulation of these ingredients. In the case of Testo Rampage there little to no clinical data such as published research, studies or clinical trials that we were able to find that support the claims made by Testo Rampage as to its overall effectiveness.
Taking these two factors and adding the fact that the majority of independent user reviews that we were able to see on multiple platforms with no apparent connection to Testo Rampage and that had a highly negative view of their experiences with the product it is clear that the current formulation of Testo Rampage has not delivered on its claims in a way that would merit inclusion in the category of best possible options for men looking for supplements of this nature.
For more information on high quality, top ranked muscle building, virility promoting supplements available on the market today, click here.
Muscle Building Supplement Reviews
We reviewed the leading build muscle supplements. See which ones pump you up and which are a waste of money
.