Super Mass Gainer

Review
Rated:
3.3

out of

5


by

BuildMuscle.com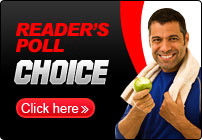 Anyone who has ever contemplated becoming a serious bodybuilder has to make a deliberate series of rather serious choices. Among them are the choices of training techniques, recovery methods and dietary selections all of which will play a crucial role in the degree of success that they will be able to achieve in their pursuit. These choices will be hard but once they have been made and, assuming they are the best choices, one will find that these choices are only the beginning as having the mental and physical fortitude to stick with them will be far harder to do in the long run. This is why making the decision to follow this path is one that only a small percentage of men and women will ever being able to stay the course and achieve something truly extraordinary. This being the case it would be wise to examine just why one would want to begin this journey in the first place.
Looking at what has driven men to exceed expectations since the dawn of humanity can be hard to do but one this we know is that some men and women are just naturally driven to be something more - something beyond average. And, for many, this natural drive points them in the direction of perfecting the essence of who they are which means that some will be drawn to pursuits which expand their minds. Still others see a path in which they will seek to perfect their bodies and reach their pure physical potential. And, still others see a path that incorporates both of these pursuits. Whatever it is that drives them there are some basic facts that they will have to face when it comes to the physical aspects of their quest. One of these is the fact that over the last few decades there have been some amazing advances in science that now allows serious bodybuilders the opportunity to take their strength and body sculpting aspirations to a level that has never been seen before. The result of this is a series of new bodybuilding supplements which create conditions for highly increased results.
Among them are supplements which are designed to boost the level of nitric oxide in the system which allows for far greater transfer of both oxygen and nutrients to all of the major muscle groups. In doing so today's most accomplished bodybuilders can far exceed the results of those in past generations. It also means that anyone who aspires to these heights must utilize them in order to have any chance of reaching those lofty heights.
The one real issues that has come about as a result of all of these great advances is that the industry which produces them has now become inundated with literally hundreds of new products which may appear to be the equal of the best that the industry has to offer but, which have been proven too often be far less effective and, in some cases, less safe than the top performers. Clearly, it is easy to see how this situation has caused a great many bodybuilders to become confused and frustrated by the number of choices in supplements given that many of them appear to have all of the same basic ingredients and boast of the same types of claims.
With all of this in mind we, as a part of our continuing efforts to help our many valued readers find the products that will most likely get the job done, have decided to take a long hard look at one of the most talked about bodybuilding supplements available today - it's called Super Mass Gainer.
About Super Mass Gainer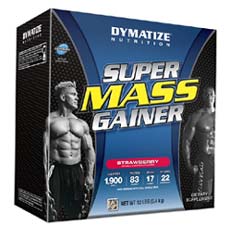 Produced and distributed from within the United States by a company called Dymatize Nutrition, Super Mass Gainer is said to be loaded with a blend of highly beneficial calories designed to provide the fuel necessary to achieve massive gains and produce large amounts of lean muscle mass. This is claimed to be achieved by using BCAA's which act as building blocks for the synthesis of protein.
The use of high levels of Creatine also are said to improve overall endurance for higher levels of muscle gain. Finally, the producers also use a more than standard amount of Glutamine to help achieve the best overall results from each and every recovery period.
Active Ingredients
A review of the overall ingredient list shows that the individual elements are quite standard to most products of this kind, including many of the industry's top sellers. They are said to include Maltodextrin, Micellar Casein, Cocoa, Fructose, Soybean Oil, Potassium Chloride, Cellulose Gum, Xanthan Gum and eggs.
Super Mass Gainer And The Research
Clearly it is a good thing to know what the ingredients are in any product especially in one of this kind but that does not tell the whole story to those who want to understand just how effective and safe a product of this kind will truly be. For this type of understanding consumers must dig deeper and look at any research, studies or clinical trials that may have been conducted on the product. This is the only way to understand how any product's particular formulation is likely to be judged and any reputable company should be able to provide this kind of data to consumers.
After a review of all of the available information we could not locate any links to reports which would offer any credible or verifiable information related to research or testing that would support the many claims being made for Super Mass Gainer.
User Reviews And Testimonials
Given that the internet has changed just about everything in the world it is no surprise as to the effect it has had on advertising and marketing of products. What we're talking about here is the role that user reviews and testimonials now play in how consumers judge and buy products of all kinds. The issue that most comes up in this new form of consumer self-empowerment is the fact that most of these user comments are found on websites and in other forms of marketing materials which were created by the seller and remain under their control. This creates what can only be viewed as a situation loaded with an obvious and inherent bias. For this reason we always look for more independent sources of user comments.
Basing a survey on what we could find through a number or well-known industry related websites having no apparent connection to Super Mass Gainer or Dymatize Nutrition we located a rather large cache of independent user reviews for this product. A quick tally of the overall satisfaction ratings clearly showed that the vast majority of them did not have a positive opinion of their experiences with this product even after extended use.
Potential Medical Concerns
As with any product of this nature there is always a potential for health risks such as allergic reactions but given that the list of ingredients is well-established within the industry there does not seem to be any significant reason for concern. Still, it is always best to seek a consultation with a physician or other qualified medical professional before beginning a regimen of use with this or any similar product.
Purchasing Super Mass Gainer
With an average cost of a one month supply set at approximately $34.99, this product can be found for sale at GNC and a number of similar online retail outlets.
The Last Word
One the decision has been made to pursue the ultimate human form one must be prepared to do what is necessary to compete at the highest levels by today's standards. This means the use of a high quality bodybuilding supplement which provides for the high production levels of nitric oxide in the bloodstream for greater transmission of oxygen and nutrients to all of the major muscle groups. What we set out here to do was to determine if Super Mass Gainer was among the top choices. To do that we looked at three key factors.
The first was the list of ingredients and they were found to be more than adequate. The second was to check on the availability of research and testing data and we found that none was accessible by consumers. The third was to see what independent users were saying and, as discussed, the results were far less than favorable.
In the end it appears clear that Super Mass Gainer is not one of the best options for serious bodybuilders.
For more information on high quality, top rated bodybuilding supplements available on the market today, click here.
Muscle Building Supplement Reviews
We reviewed the leading build muscle supplements. See which ones pump you up and which are a waste of money
.