EAS Lean 15

Review
Rated:
3.5

out of

5


by

BuildMuscle.com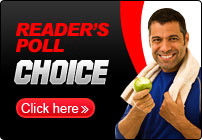 Strong healthy bodies need many things from proper nutrition and hydration to proper exercise both in type and amount. In order to achieve that everyone but especially athletes and serious bodybuilders must maximize the benefits that the be gained from these things and many others.
One of those other things is related to the supplements that athletes and bodybuilders choose the help them climb the mountain that stands in front of them as they set out on their journey toward their ultimate goals. These supplements are critical and really no longer an option for anyone who wants to compete at the highest levels as these supplements provide crucial elements necessary for the various systems within the body are functioning at their highest levels in order to allow for maximum gains.
The problem facing those on their journey is that determining which supplements are right for them can be an ever increasingly difficult thing to do. This is because the market for health and fitness supplements is growing by leaps and bounds due to the fact that there are literally billions of dollars at stake and more and more companies are attempting to jump on the bandwagon in order to get their piece of the pie. Complicating the decision is the fact that more and more of these products on the market have very similar ingredients and very similar claims.
Keeping all of this in mind, we, as part of our ongoing efforts to help our readers find the products that will likely work best for them, have decided to take a long hard look at one of the most talked about bodybuilding supplements available today - it's called EAS Lean 15.
About EAS Lean 15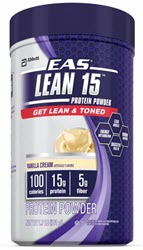 EAS Lean 15 is a product of Abbott Nutrition which has been in operation since 1903 and has a product line that includes well-known products such as Ensure, PediaSure and Glucerna.
The key claims include that it nourishes lean muscle, reaches your lean body goals and recovers more quickly with 100% pure milk protein, manages hunger, packed with 15 grams protein, helps to keep you fuller longer so you can keep going strong, supports immunity, helps to keep you at your best and stay at your best with a combination of antioxidant vitamins.
Some of the key factors that should be known about this product include:
A 100 calorie serving that helps you meet your lean body goals while providing a great way to help manage hunger.
15 g of protein from whey (fast digesting), soy (intermediate rate of digestion), and micellar casein (and slow digesting) to provide a steady supply of amino acids to your muscles.
5 g of dietary fiber, including prebiotics (1.2 g), for digestive health.
An excellent source of the antioxidant vitamins C & E for immune support.
A good source of three B-vitamins for protein and energy metabolism.
EAS Lean 15 Ingredients
Also known as EAS AdvantEDGE Protein Powder this product contains the following crucial and well-recognized elements:
Milk Protein Concentrate, Natural & Artificial Flavor. Less than 2% of the Following: Vitamin & Mineral Blend (Salt, Ascorbic Acid, Zinc Gluconate, dl-Alpha-Tocopheryl Acetate, Niacinamide, Manganese Gluconate, Calcium Pantothenate, Vitamin A Palmitate, Pyridoxine Hydrochloride, Thiamine Chloride Hydrochloride, Riboflavin, Chromium Chloride, Folic Acid, Beta-Carotene, Vitamin D3, Biotin, Sodium Molybdate, Sodium Selenite, Potassium Iodide, Phytonadione, Cyanocobalamin), Carrageenan, Xanthan Gum, Sucralose, and Acesulfame Potassium.
Clinical Data and Other Information
The official website for EAS Lean 15 offers a fairly large amount of links to clinical data including research, clinical studies and trials. An examination of those shows that although there are some materials that may not be fully supportive of the formulation in EAS Lean 15 they do offer a range and depth of information that is far in excess of many of its competitors.
What Users Are Saying About EAS Lean 15
The official website for EAS Lean 15 does not offer any testimonials of user reviews but that is of little consequence given that endorsements of this nature are obviously biased based on the fact the seller is in control of the site and controls the commentary of their product, This being the case we set out to find some other sources of user reviews that would not contain that kind of bias.
Using a standard search of several industry websites with no apparent affiliation to Abbott Nutrition or EAS Lean 15 and a number of chat rooms focused on the subject of protein supplements we came upon a rather large number of user reviews. The overall opinions voiced in these independent reviews were somewhat mixed but better than many of its competitors.
Health And Safety Issues
Reviewing the ingredients used in EAS Lean 15 there is no reason that we are aware of to believe that there is any significant risk of major health or safety issues associated with its use. However, it is always advisable to seek out a consultation with a primary care physician or other qualified medical professional before beginning use of this or any other similar product.
Pricing And Dosage Recommendations
A 1.7lb container of EAS Lean 15 retails for $25.99 on multiple online retail platforms. The recommended daily serving is two ounces.
EAS Lean 15: The Conclusion
Going back to the start of this review we talked about how important everything that we all do is critical to our health including nutrition, hydration and exercise. For serious athletes and bodybuilders having the proper nutrition, hydration, training regimen and recovery routine are all critical to their success as they pursue their lofty goals.
The other and equally crucial aspect of what they need to compete with the best in their field involves the supplements that they choose to use. The problem with that comes in when they actually go looking for the product that they believe will work best for them is that there are just so many options to choose from due to the ever increasing profits that can be made in this ballooning market.
Looking directly at EAS Lean 15 there are multiple aspects that must be looked at in order to determine if this product deserves to be called one of the best options available. The first is the list of ingredients which would have to be considered more than solid when compared against any of the top brands on the market at this time.
Another aspect is clinical data that backs up and supports the claims made by the company for this product. In that regard Abbott Nutrition does offer a large array of information related to research, clinical studies and trials that have been done over the years for both the ingredients used in the product and on the formulation for EAS Lean 15, itself. Together these two aspects make EAS Lean 15 one of the most talked about and intriguing protein powder supplements.
When one considers a third aspect which is the large number of independent user reviews one would find that these user reviews were a very mixed bag in general. Adding up all of these factors many would conclude that as strong as EAS Lean 15 performs in many regards there are still issues that the company should address to solidify the products position in the market before it can clearly be considered one of the very best possible options for bodybuilders.
For more information on high quality, top ranked protein powder based bodybuilding supplements available on the market today, click here.
Muscle Building Supplement Reviews
We reviewed the leading build muscle supplements. See which ones pump you up and which are a waste of money
.