Animal Omega

: Is It Safe? Does It Work?
Rated:
3.5

out of

5


by

BuildMuscle.com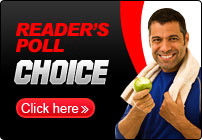 The one thing any experienced bodybuilder wants above all else is to maximize the physical benefits that they attain from the workout regimen. To do this they know that they need to feed the body and its internal process the proper nutrients and other elements necessary to achieve these goals. And, for many years, there have been two real ways to do this. One has been through the use of anabolic steroids which, as we all know, come with a whole host of problems including serious health risks to both their physical and mental wellbeing. Not only that, there is the very real, if not often acknowledged fact that these substances are often outright illegal and, in the best cases, against the rules of every major sport and fitness organization around the world. The other method is through the use of a high quality bodybuilding supplement designed to provide these critical elements needed to boost energy, endurance and stamina while burning fat reserves and building up large quantities of lean muscle mass.
Since we can assume that most of our readers understand the inherent dangers and pitfalls of using anabolic steroids there is no point is discussing this risky option further. So, let's get onto the option that is the clear path to success - a high quality, proven bodybuilding supplement. And, as part of our ongoing effort to help our readers find the product that is right for them we have decided to take an in depth look at one of the most talked about supplements available on the market today - Animal Omega.
Inside Animal Omega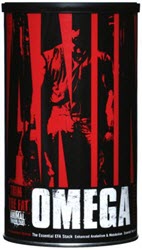 Produced by Universal Nutrition, a company that claims to have been found in 1983, the Animal line of products was expanded to include Animal Omega in order to fill a gap in the company's product line of bodybuilding supplements. The premise behind the formulation of Animal Omega is to provide the user with an ample supply of fatty acids necessary for the promotion of stamina and other side benefits such as overall cardiovascular health.
The focus building up these fatty acids comes from the somewhat controversial theory that the human body, being a form of mammal, does not produce enough of these essential fatty acids on its own and, therefore, needs to find outside sources rich in these nutrients. Furthermore, since adequate amounts of these elements are hard to acquire through the ingestion of natural materials such as plants it is productive to create a source of high quality fatty acids designed for easy consumption.
Ingredients
Since there are, and have been many such sources, on the market for years, Animal Omega seems to have decided to throw the kitchen sink at the formulation of their list of ingredients. These include:
Omega 3 Fatty Acid (N-3 FA) Complex
A combination of Salmon Oil, Cod Live Oil, Mackerel Oil and Flaxseed Oil, this complex is designed to provide the necessary elements to promote healthy cholesterol levels, cardiovascular integrity and improve cognitive performance.
Omega 6 Fatty Acid (N-6 FA) Complex
Based on a formulation of fatty acids including Sesamin, Evening Primrose Oil, Safflower Oil and Borage Oil, this mixture adheres to the theory that greater performance standards can be achieved when combining Omega 3 acids with Omega 6 acids.
Omega Absorption Complex
By introducing Lipase Enzyme, L-Carnitine and Lecithin in the mix, the producers have tried to create a formula designed for quick absorption of the other fatty acid complexes.
User Reviews
Because the manufacturers of bodybuilding products, as well as other health based product lines, have an interest in putting the best possible spin on their products they tend to fill their official sites, publications and advertisements. Knowing this, we always endeavor to seek out sources for more independent user reviews which we were able to do with relative success with Animal Omega. What we found from analyzing these independent reviews was, perhaps, a bit surprising but not at all unexpected given the state of the bodybuilding supplement market today.
After compiling the key points, overall leanings and general ratings of these independent reviews it is clear that a clear majority of users did not have a lot of good things to say about Animal Omega. The general sense among these negative reviews was that the claims made by Universal Nutrition were far greater than the actual benefits experienced by the majority of users. In addition, it was quite clear that users who had tried a number of other supplements in their search for the right one did not believe that Animal Omega was among the best that they had tried.
Pros
Designed to deliver essential fatty acids for improved performance
A solid list of ingredients in line with many of its competitors
All-natural ingredients promotes overall health
Cons
Lack of verifiable clinical studies leaves its effective open to questions
Majority of independent user reviews were negative in nature
Potential for allergic reactions
Medical Cautions
As with any product that introduces large quantities of fatty acids into the bloodstream and purports to have effects on the heart and cardiovascular system in general, we believe it should not be used without consulting your personal physician or other qualified medical professional.
Pricing and Dosage
Animal Omega retails for $27.99 (30 servings costing less than one dollar each.) The somewhat unusual serving size of eight different pills per pack may be hard to swallow (no pun intended) but is a plus in delivering the key elements.
Official statements from the company include: "Use Animal Omega as you would your regular essential fatty acid (EFA) supplement. If this is your first time, take Animal Omega with a meal and you're good to go. Use a pack or two daily, as you need it. Generally, a single pack will do fine for most. Elite athletes can consider doubling up the serving."
Our Conclusion
As made clear at the top of this article, any experienced bodybuilder knows that nothing is more important to achieving your ultimate goals of shaping and molding a world class physique than providing your body with the essential nutrients and other elements it needs to maximize each and every workout. And, knowing that the use of anabolic steroids is not a realistic option for those who care about their health and the legal and regulatory issues associated with their use the only real option left is to find a high quality bodybuilding supplement.
When looking specifically at Animal Omega there are a couple of key points we had to consider. The first was that Universal Nutrition's choice of formula was fairly well informed regarding the current science involved energy boosting, fat burning supplements. And for this we had to give the particular formula higher than average grades. The second point we focused on was that we had to give a high degree of weight to the independent user reviews. This aspect received even higher than normal consideration because of the lack of research and clinical studies that directly focused on the Animal Omega formula. It is one thing to look at studies and support general scientific concepts such as the health benefits of the type of fatty acids that a particular products chooses to add into its formulation. It's a completely different thing to suggest that studies focused on these general concepts have any real relation to one specific product.
Looking at Animal Omega in total, it is clear that the producers are on the right track when it comes to creating a complex formula that offers so many important health benefits but without verifiable support from clinical studies and with a substantial list of unfavorable independent user reviews it is hard to give a big thumbs up to this product.
For more information on top rated, well-recognized bodybuilding supplement that are available on the market today, click here.
Muscle Building Supplement Reviews
We reviewed the leading build muscle supplements. See which ones pump you up and which are a waste of money
.