Amplified Creatine 189

: How Effective Is It?
Rated:
3.5

out of

5


by

BuildMuscle.com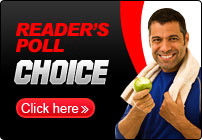 Any serious bodybuilding knows that there is nothing more important than maximizing the benefits of every aspect of their training regimen. From squeezing every ounce of energy out of a workout session to getting the most out of every recovery period to extracting the highest levels of nutrients out of your diet an athlete in pursuit of the ultimate physique should leave nothing on the table. That's why finding and utilizing the very best bodybuilding supplement is and must always be a top priority. The question then becomes how to make the right choice in a bodybuilding supplement that will give you everything you need - nothing more and nothing less.
This may seem obvious and easy to do but, as any experienced bodybuilder knows, the bodybuilding industry, which is a multi-billion dollar a year enterprise, has become a maze of various products vying for your attention. Some of the products are good and even better but, unfortunately, many of them are essentially useless powders and other creations designed to simply strip the user of their hard earned money. Mostly, this is done by creating a basic and, usually, harmless product and then building a slick advertising campaign around it hyping it with a money back guarantee that makes it sound like there's no real risk involved in trying it. The second part of the equation comes into play as the seller counts on the fact that the overwhelmingly vast majority of unsatisfied users will, through a variety of scenarios, either forget to return the product or decide that the process is too hard or not worth the trouble to pursue a refund. This may be an unpleasant side effect of doing business but it is a reality.
Keeping all of that in mind, we, as part of our ongoing efforts to help our readers find the products that are right for them, have decided to take a long hard look at one of the most talked about bodybuilding supplements available today - it's called Amplified Creatine 189.
Inside Amplified Creatine 189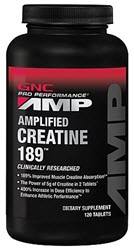 Amplified Creatine 189 is a bodybuilding supplement created and distributed by General Nutrition Centre which has enjoyed a long and respected history in the production of quality consumer health products. The basis for the creation of Amplified Creatine 189 is that the company believed it could make a version of this critical supplement that would distill the benefits of other well-formulated products down to a purer and more robust formula that delivers all the punch of other high quality creatine formulas in smaller, less off putting doses.
This formulation depends on a single active ingredient called Creatine Hydrochloride which, its creators claim, can lead to an increase in absorption of 189% over similar supplements thereby increasing of nutrients while cutting way back on the overall quantity of the supplement that needs to be ingested to work effectively. Furthermore, the increased absorption rate leads to a marked increase in which visible results can be achieved. The manufacturer claims that visible results can be seen in a little as two weeks from the time one begins recommended use of the product.
User Reviews
Again, as any experienced bodybuilder knows, most products generally offer an array of overly positive user reviews and testimonials on their official websites and related affiliate selling sites. Being that these are rarely, if ever, an unbiased representation of a products safety or effectiveness, we set out to find as many unbiased and independent user reviews as possible through unaffiliated industry websites and chat rooms dedicated to the subject.
We must admit that there was a certain amount of surprise when we discovered that a clear majority of these independent user reviews were negative in their portrayal of their experience with Amplified Creatine 189. In fact, comment that seems most prevalent in these reviews was that, even after following the products recommendations the product did not live up to the stated claims.
Amplified Creatine 189: Pros
Builds lean muscle mass at an accelerated rate
Burns excess body fat
Improves stamina and endurance for better workouts
Competitively priced versus similar products
Offers a full money back guarantee
Amplified Creatine 189: Cons
Some claims of allergic reactions associate with the use of this product
Results are dependent upon workout routine and dietary factors
Majority of independent reviews for this product are negative in nature
Medical Precautions
Normally, it would be advisable to consult with a primary care physician or other qualified medical professional before beginning use of this bodybuilding supplement or similar product. However, given that there appears to be a history of allergic reactions and other possible side effects associated with its use it even more important to make sure that any potential user make sure that he or she has no conditions that would make them susceptible to these types of health concerns.
Pricing And Dosage
Retailing at a cost of $37 for a one month supply, Amplified Creatine 189 is moderately priced in relation to many of its competitors. The daily recommended dosage is four capsules per day.
The Final Conclusion
As we talked about that the start of this review, there is nothing more important to a serious bodybuilder than to get the maximum benefit out of each and every workout session, recovery period and dietary choice. In order to do that a true athlete needs to optimize every aspect of their training regimen and that includes the choice of supplement that they use.
Being that the market for such products has been flooded in recent years with many cheap copycats and knock-offs it can be hard to easily determine which of these products is for real and which are the pretenders.
When it comes to our assessment of Amplified Creatine 189 we looked at the company's history which is apparently good, the product's formula, which in this case is very simple given that there is only one active ingredient and independent user reviews, which, to our surprise, were not very good given that the majority of them were negative and largely focused on the fact that the users did not achieve anywhere near the type of results that had expected. Although these mostly negative reviews were somewhat surprising in the sense that a product offered by a manufacturer with a good reputation could not come up with a formula that could deliver on the expectations of its customers given the poor quality of so many of its competitors.
For more information on high quality, top ranked bodybuilding supplements available on the market today, click here.
Muscle Building Supplement Reviews
We reviewed the leading build muscle supplements. See which ones pump you up and which are a waste of money
.