Ultra Edge XL

Review
Rated:
5

out of

5


by

BuildMuscle.com
Many bodybuilders refer to their pre-workout supplement routine as 'feeding their muscles' and for good reason: the key to significant muscle gains is providing your straining muscles with the nutrients they need to power through your workout and build more muscle tissue. While a nutritious, protein-packed diet certainly contributes to attempts to bulk up, many people find that they need more than what they consume natural to achieve the ripped look they were going for. Many bodybuilders turn to supplements such as creatine or protein powder but the best type of supplement for quick muscle gains is branched chain amino acids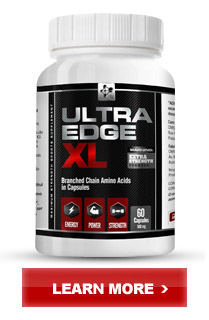 You may be wondering to yourself about what branched chain amino acids are and how they can help build muscle. Branched chain amino acids (BCAAs) are essential amino acids that encourage lean muscle development and improve muscular definition. These specialized amino acids do more than just form the framework for muscle tissue development; they actually intensify your workout efforts to build more muscle naturally.
Ultra Edge XL is a powerful muscle building supplement that harnesses the power of branched chain amino acids to increase your muscle gains. Ultra Edge XL claims to:
Increase lean muscle mass
Boost stamina and endurance
Enhance muscle definition and tone
Reduce post-workout fatigue
But does Ultra Edge XL live up to its claims? Keep reading below to find out.
Ultra Edge XL Ingredients
Bodybuilders have been used branched chain amino acids for years to pack on lean muscle fast. Unfortunately, many of older supplements only contain one of the three amino acids. Most bodybuilders are familiar with leucine but it's not the only branched chain amino acid; isoleucine and valine are also BCAAs.
Ultra Edge XL's proprietary muscle building formula contains a blend of all three BCAAs in an optimal ratio, as well as Vitamin B6 for maximum effectiveness. But how do these ingredients help you build muscle?
Branched Chain Amino Acids - Simply put, BCAAs are the key to muscle growth. One third of all the amino acids found in muscle tissue are BCAAs. They form the direct framework of muscle tissue and are essential for muscle development. BCAAs also fuel workout efforts by providing muscles with the energy they need to contract as you exercise. These essential amino acids are metabolized directly within the muscle tissue and converted to ATP, the cellular energy source responsible for powering all muscle movement. In addition to being used for amino acid metabolism, BCAAs also encourages fat oxidation to provide energy during intense workouts. By encouraging your body to burn fat instead of glycogen for fuel, this prevents fatigue from setting in while you're doing reps and curbs post-workout exhaustion.
Vitamin B6 - This vitamin amplifies the effects of the BCAAs for increased muscle development. Vitamin B6 functions as a coenzyme to facilitate amino acid metabolism, increasing the rate of ATP production to help you do more reps. Vitamin B6 also helps with lipid metabolism, converting body fat into energy you can use to work out for longer.
Does Ultra Edge XL Work?
Ultra Edge XL provides your body with everything it needs to build lean muscle fast.  From the very first day they tried it, our testers reported experience increased strength and endurance. Many users reported doubling or even tripling the length of their workout and every single person mentioned seeing a dramatic increase in both muscle size and definition.
Pack on lean muscle
Drastically increase stamina and endurance
Burn fat to fuel your workout
Avoid post-workout fatigue
Ultra Edge XL received a perfect 5 out of 5 for its performance. Now see how it can improve your muscle building efforts.
Buy Ultra Edge XL
Now is a good time to try Ultra Edge XL. The manufacturer is currently offering a discount on multiple bottles. Click here to experience the benefits of Ultra Edge XL for yourself today.
Muscle Building Supplement Reviews
We reviewed the leading build muscle supplements. See which ones pump you up and which are a waste of money
.