Growth Factor

Review
Rated:
5

out of

5


by

BuildMuscle.com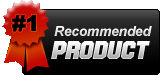 If you're looking to enhance the overall shape of your body, you might want to think about Human Growth Hormone supplementation. Human Growth Hormone (or HGH for short) is a hormone which your body naturally produces. It is responsible for helping your cells produce lean muscle, burning excess body fat, and keeping your essential organs and connective tissues healthy. Some nutrition experts even go as far as to say that HGH is like your body's own personal "fountain of youth", since people who produce more HGH tend to live longer and look younger.
HGH has been taking the athletic world by storm, especially among bodybuilders and athletes who need to be lean and muscular for success in their careers. Some go to extremes and waste hundreds or even thousands of dollars on risky and unsafe HGH injections: but the smart ones save their money and get real results through natural herbal HGH boosting supplements like Growth Factor.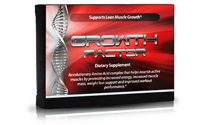 With Growth Factor, you can:
Gain muscle quickly and safely
Decrease excess body fat without starvation diets or fatigue
Recover from your workouts faster
Regain youthful energy and vitality
Does Growth Factor live up to its claims? Keep reading to find out.
Growth Factor Ingredients
When choosing an HGH supplement, it's important to shop around for a product that helps your body naturally produce the maximum level of its own muscle-building hormones. Growth Factor succeeds at this with its powerful ingredients, which include:
L-Glutamine - Increases your body's ability to turn the protein you consume into lean, healthy muscle
L-Glycine - An important building block of creatine, which enhances your energy levels during exercise for more explosive and productive workouts
BCAAs - Branched chain amino acids (BCAAs) like L-Valine, L-Leucine, and L-Isoleucine work synergistically with the other ingredients in Growth Factor to give you a much-needed energy boost during your workouts
L-Arginine - An essential amino acid, it is especially helpful for repairing muscle and connective tissues
L-Ornithine - Triggers your pituitary gland, stimulating increased HGH production
AstraGin - Enhances your body's ability to absorb the HGH-stimulating ingredients in Growth Factor
Does Growth Factor Work?
Yes! Growth Factor works better at releasing HGH into your system than any other supplement on the market. Growth Factor shows a lot of promise in helping:
Pack on lean muscle
Reducing post-workout recovery time (so you can get back to the gym faster!)
Burn through body fat
Boost daily energy levels
Restore youthful energy and vitality
Experience all of the benefits of human growth hormone without costly—and risky—HGH injections with Growth Factor.
Buy Growth Factor
Currently, the manufacturers of Growth Factor are offering a risk-free trial through their website. With all of the rave reviews we've been hearing, we recommend you try Growth Factor today. Visit their website now and try Growth Factor today!
Muscle Building Supplement Reviews
We reviewed the leading build muscle supplements. See which ones pump you up and which are a waste of money
.